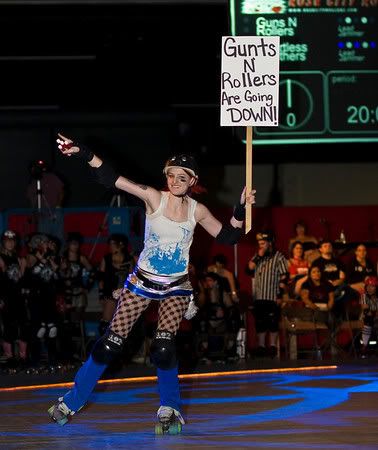 From days of yore, obv.
Once again, as with prior bouts this year, I think the Heartless Heathers' hangar battle this Saturday, April 18, will be very hard-fought: a victory for the Heathers is by no means assured. I type these words not a a disloyal fan, but as a realist, and as a Wittgensteinian believer in nothing as much as uncertainty.
The strength of G'n'R is undeniable, given their great cast of national caliber veterans, their experiential depth, and their recent upset of the High Rollers.
I suspect the Heathers will prevail, as they will again in this year's RCR semi-finals and finals, not so much because they as a team are also jam-packed with national-level talent, and not so much because they have worked to claim the deepest bench in their league (as well as one of the deepest benches in the Pacific Northwest), but because they are undeniably the smartest team in the Rose City Rollers. And smart may come up short in some instances, but mostly smart learns, smart adapts, and smart prevails.
See you in the comments, see you at Oaks, and Heathers Por Vida!